A grand welfare conference was held On China Charity Day in Jinan City.
September 5th marked the 4th China Charity Day as well as the 3rd anniversary of the implementation of Charity Law of People's Republic of China officially. A big welfare conference titled Love Warms Thousands of Families, Charity Moisturizes Jinan, the City of Springs which was sponsored by China Charity Federation and Jinan People's Government in Lianqin Hotel and Chixia Plaza grandly in Jinan City.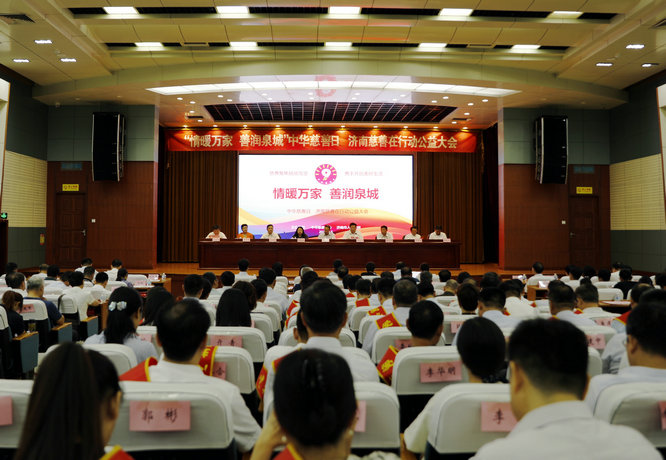 Vice president of China Charity Federation Liu Wei, deputy secretary of Municipal Party Committee of Jinan Su Shuwei, deputy director-general of Shandong Provincial Civil Affairs Bureau, Director of the Standing Committee of the National People's Congress of Xiangxi Autonomous Prefecture of Hunan Province and President of Xiangxi Autonomous Prefecture of Hunan Province Peng Wuzhang, President of Jinan Charity Federation Xu Mingmei, President of Linyi City Charity Federation Xu Futian, Director of Jinan City Civil Affairs Bureau Sun Yihong, Vice President and Secretary General of Shandong Charity Federation Zhang Yanlong, Director of Wulong District Civil Affairs Bureau of Chongqing Municipality and President of Wulong District Charity Federation Zheng Shirong and other relevant leaders attended the conference.
The meeting was presided over by Vice Chairman of Jinan CPPCC Li Haochen, President of Jinan Charity Federation delivered a welcome speech and Vice President of China Charity Federation addressed at the conference and participated in related activities.
Donation Account
Account Name:


China Charity Federation

Bank Name:Bank of China
Bank Address:
Head Office(No.1 Fu Xing Men Nei Street, Beijing, China)
Account Number: 778350015925 Swift Code:BKCHCNBJ